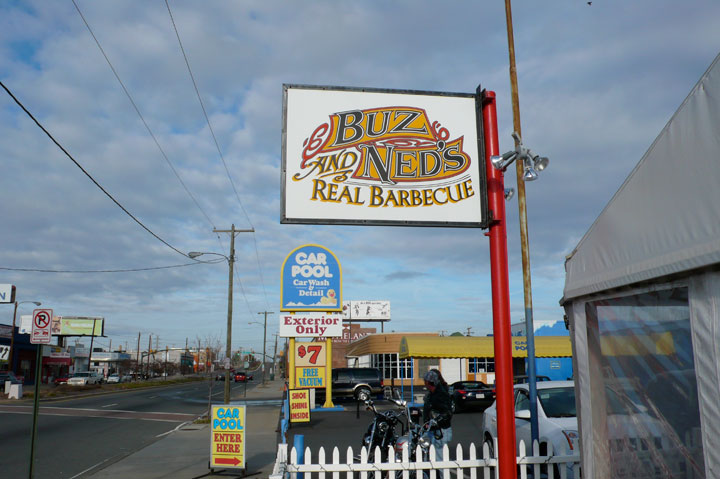 Yes, RichmondVA is a hub of amazing BBQ. Many of you may not believe it and it may not be no Norfkackalacky (or Souf) but it's home and it's got some good pork. Here is a site that I had not visited while I was still there…I think it was a newborn or not even born yet. I got my car washed at The Car Pool on Northside bc they actually care about what your car looks like. This Car Pool was a little too cavalier with their Armorall.
Anyhoo, we had just had lunch at Kuba Kuba so just a little taste was necessary: Pulled Pork Sammy w/ Coleslaw & Hot Sauce, Hush Puppies & Butter.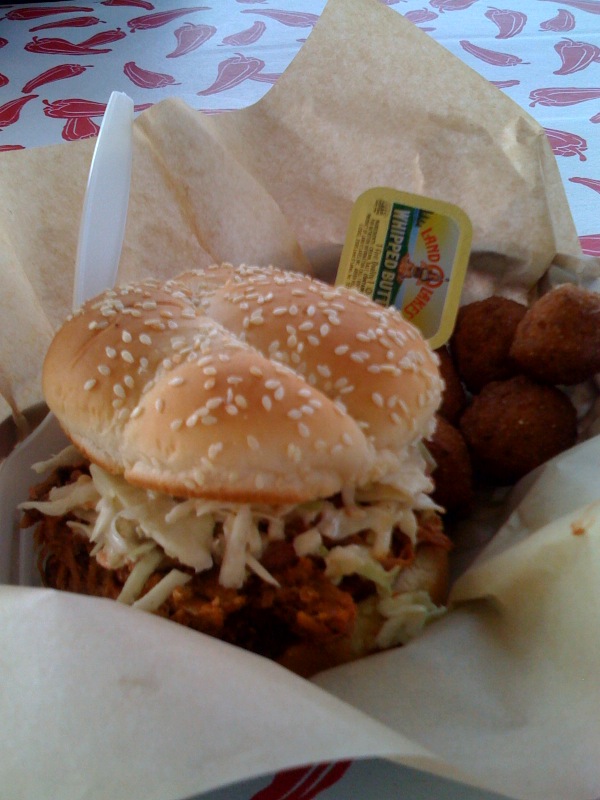 It was awesome. Moist, flavorful and tons of meat. Coulda made two sammies with it. Hush Puppies were hot and crispy with a faint onion kick. The butter melted as soon as you dipped it in the little packets. Yumm. Definitely worth the stop if you're ever in RichmondVA.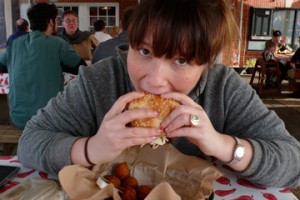 *Note: Below the signage of this establishment, you will notice a biker. There were actually two of them seated next to us and they finished up and walked over to their Harleys. One of them was missing his lower leg and what you can't see is that he had his thigh resting on his bike seat while he and his buddy were enjoying their tobacco. I went back to the car to get our camera and overheard them conversatin': (Looking across the street at a local tattoo shop, run by some friends, River City Tattoo)
"That place right thar is for 'em Hiiiii End tattoos."
"Oh yeah?"
"Expensive. Ain't like nuthin' we ever be into…"
"Hmmmm…"
(long drawls and exhales of heavy Philip Morris grey breath throughout)