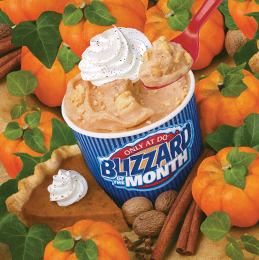 Um. Yeah. First of all, if any of you truly know me, you know that the Blizzard is my favoritest ice cream treat of all time. In high school, I lived off them. Mint Oreo or Cappuccino Heath. Oh Laaawd.
My sweet tooth has since waned and all I can really manage is a chocolate chip cookie or small bag of Peanut M&M's (so good, I have them tattooed on my arm, thanks Will Will!). But shit, if I had been in a tragic car accident like many a teenager in Richmond, VA, thereda been Blizzard all over the scene and not blood…
Dairy Queen, I salute your nutmeg and whipped cream topped Cold Cup O' Sweet Pumpkin Goodness. It's only for this month, so don't sleep (or eat Tiramisu or some fancy shit).