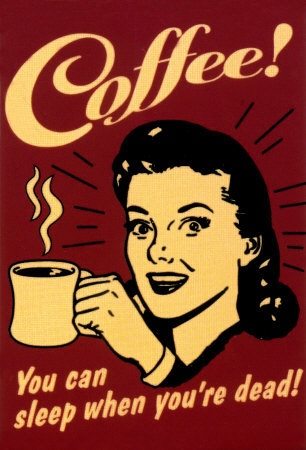 A new study has determined that coffee does NOT sober you up. I mean, I don't know how this is groundbreaking shit, but…Basically, they're saying that if you're drinking only alcohol, you are more aware of how drunk you are. If you add coffee (or a caffeine energy drink) to the mix, the caffeine may make you less aware of how drunk you are, thus, leading you to make poor decisions like drunk-driving. Also,
The US Food and Drug Administration is looking into the safety and legality of combination alcohol-caffeine beverages. In November, it sent letters to 30 manufacturers asking for evidence that such drinks are safe and legal under FDA regulations. To date, the FDA has only approved caffeine as an additive in soft drinks at concentrations less than 200 parts per million and has not approved adding caffeine at any level to alcoholic beverages. Under the Federal Food, Drug and Cosmetic Act, a substance added intentionally to food such as caffeine in alcoholic beverages is deemed unsafe and is unlawful unless its particular use has been approved by FDA regulation or is generally recognised as safe.
Does that mean those crazy energy drinks with alcohol are illegal? Sparks, hello?