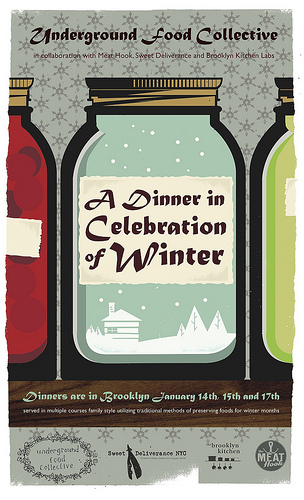 This is what I'm doing for my birthday.
No, it's not UFC, as in my ULTIMATE FIGHTING CHAMPIONSHIPS, most often viewed at such classy places as Hooter's and Buffalo Wild Wings. It's the Underground Food Collective's Winter Dinner Party. Sign up immediately as the seats are almost filled. Saturday is fully booked but you didn't want to do that night anyways. SUNDAY is FUNDAY, i.e. My Birthday.
Underground Food Collective, Sweet Deliverance, the Brooklyn Kitchen Labs, and the Meat Hook bring you a series of dinners celebrating Winter – focusing on the under-appreciated bounty of the season as well as diverse methods of preservation. House raised, slaughtered and butchered meats, pickles and preserves, homebrew and the heartiest of hearty vegetables will make up these multi-course meals.

Seats are limited, so reserve your spot today for one of three dinners January 14, 15 or 17, starting at 7:30pm. All dinners will be held in Brooklyn. Ticket holders will be emailed the locations of the dinners a week prior to the date.

Tickets are $65 and include a sampling of local and homebrewed beverages, but diners are encouraged to bring a bottle of wine or other spirits to share.

Dinner locations will be emailed prior to event. PLEASE BE SURE TO INCLUDE YOUR EMAIL ADDRESS WITH YOUR ORDER!

Tickets include beverage sampling, but diners are advised to bring additional drinks to share.
Here are a couple videos of some amazing knockouts. My Most Favorite Of All-Time Knockout is UFC 54, James Irvin vs. Martin. (It's only 9 sec long so stop whining, Pussies). I get so amped watching these fights.
I scream at the screen, and if it's a good one, I'm up and jumping around. Screaming, of course. For future reference, I have to go to one of these fights in person before I die. That and go to The Fat Duck. Also, my homey Amir Sadollah from Richmond, VA is about to fight Live on Spike! VeeeeeAaaaaayyy!
Note: The second video is a montage of great knockouts. Go to 1:21 for the Irvin/Martin KO in slo-mo.