This is a new weekly column! As you all know, Skimkim has grown into a brand name for delicious, seasonal food stuffs and snarky gastrorelated tidbits via this blog and other web writing. Recently, a few of us were enjoying a full-spread korean meal when an idea was tossed around regarding our best-kept secret dining spots. The concept evolved over a few shots of sochu and Hite beers to this: let's write reviews in our own words, through our own experiences, similar to Zagat Survey. At it's best, Zagat is an irrelevant joke to real New Yorkers, or Us. Our version of Zagat will be Fagat (Zah-gah is how it's pronounced, thus, Fah-gah).
Here is our first Fagat Survey review! You've heard me rave about Joseph Leonard in the West Village. Here's the official 411.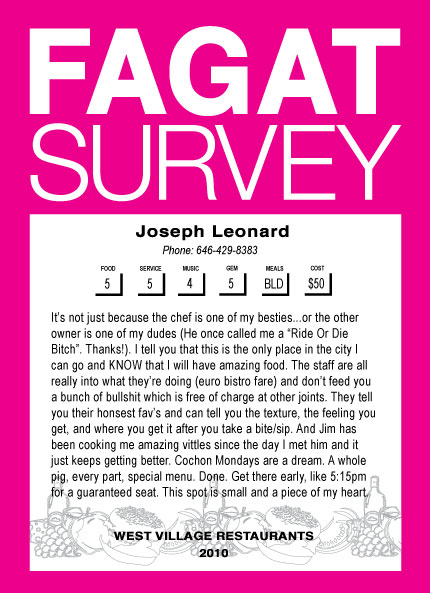 Address:

170 Waverly Pl

between Christopher St & Grove St, West Village
Notes: It's always best to go super early here–no reservations! The breakfast is amazing. Jim does eggs like no one you've ever seen…or tasted. The bar is simple and pure drankin' fare. Nothing too crazy which I appreciate. I don't want my drinks on fire or with a blue sugar rim, thanks. FYI: Dinner

always

has a wait. If you go for Cochon Mondays, do yourself a favor and order something you've never had nor ever thought you'd try. You'll thank me. Price is per head, dinner for two, which includes 2 apps, 2 entrées, and a bottle of wine.
Hours: Mon 5:30pm-12am; Tue-Fri 8am-2am; Sat & Sun 10:30am-2am
Go! Here's a little more on the column:
The new weekly Wednesay column, Fagat will be written by contributors who want to share the gems they have found throughout the years of roaming the New York streets. Holes-In-the-Wall, back of the stores, illegal food carts and dive bars abound and we all know of tons of them. We want our peers to know how amazing these spots are! Fagat is for us. It's a reference guide for people who love food, drink, fashion, art, and music.
Fagat's Rating System:
1-5 on "Food, Service, Music & Gem." "Gem" would be our equivalent of "stars" and indicates how much we adore the place. "Meals" describes which meals are served– 'B'reakfast, 'L'unch, 'D'inner. Price per head at a normal meal typical of the establishment will also be included. For example, $6 would be Price per head at a banh-mi spot for a sandwich and drink.
Check in next week for a new review, new contributor, etc etc etc…
Note: In no way is this intended as an insult to gay people, but to Zagat, for being so inapplicable to our demographic. Please know that it is simply a play on words and not irresponsible usage but rather, irreverent. The intent in using the term Fagat, as in "faggot," is meant to take back the term and redefine the definition, not as an insult but as a descriptor in which "over the top" or "too much" is synonymous. We welcome contributors and readers of all sexual orientations, ethnic backgrounds, and religions.