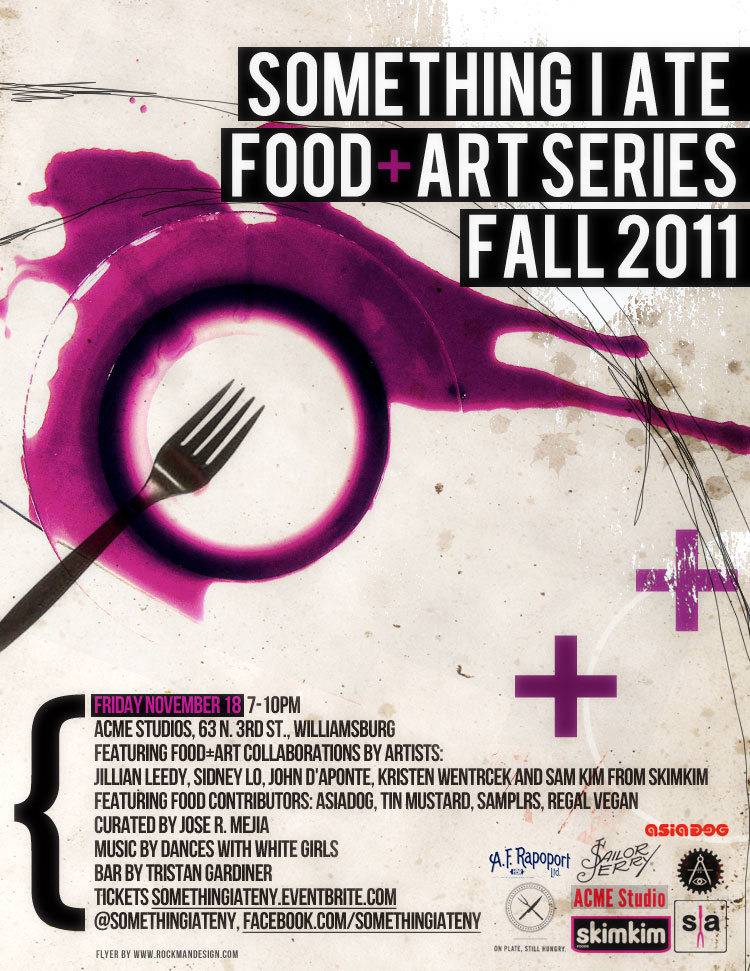 F'artwork (food+artwork).
Friday, November 18th, 7-10pm
Acme Studio in Billyburg, 63 N. 3rd, behind the loading dock, a treasure.
Here's the menu:
Curry-infused Broth, Roasted Apple & Turnip, Fennel Fronds
Turkey Leg Pretzelbread Sammies w/ Cranberry Whole Grain Mustard  & Gravy (Tin Mustard)
Orange Ginger Pork Dumplings w/ Fermented Black Bean Sauce, Orange Zest & Radish, Deconstructed
Beet Risotto w/ Butternut Squash & Bacon Vinaigrette, Microgreens
Papadum & Faux Gras Napoleon w/ Pear Chutney, Parsley & Watercress Pesto
AsiaDog CornDog Thanksgiving!
And at the bar:
SNAP Coquito – Puerto Rican version of eggnog! Cold & creamy.
Rum Fashioned – A spicy rum version of an Old Fashioned w/ an orange twist.
Dark & Tempetuous – SNAP w/ ginger beer & lime.
Hot Buttered Rum, A.F. Rapoport – Hot & buttery. Perfect for warming you up.
Get tickets at http://somethingiateny.eventbrite.com. $30 presale online. $40 at the door.