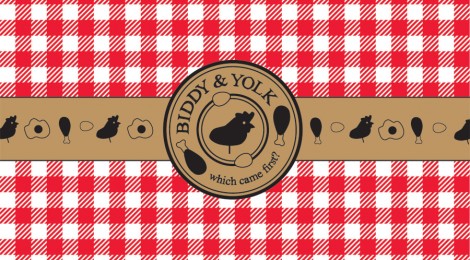 Which came first? The chicken or the egg?
Why is this not a kick ass resto in NYC? Not yet, anyways.
That's my job.
It is my pleasure to introduce the world to Biddy & Yolk, a chicken or egg eating concept. Everything on the menu is made from chicken or egg. It harkens back to the philosophical debate of "which came first." At Biddy* & Yolk, you decide!
We'll be debuting at Smorgasburg this Saturday!!! Come gobble up some grub from 11am-6pm on Kent between N 6th & 7th in Billyburg. Also, put it on your calendars: every first Saturday will be "Wing Day" featuring the best grilled wings you've ever ingested with a handful of finger sucking sauces. Each week, we'll tweet the menu and keep you up to date if we run out or change anything. Follow us @biddyandyolk.
If you've been wondering where Skimkim products have been, I've shelved them and reworked the entire line from recipe to packaging. It's ALL NEW. And yes, the new line will be showcased at Biddy & Yolk. For those of you looking for your Asian Green Goddess mainline, I, your dealer, will be at Smorg on Saturday. We don't have to meet behind the port-o-pots anymore…
*Biddy is a synonym for a hen or chicken. Yes, for a gregarious old woman, too, but that's obviously not what we're frying up.