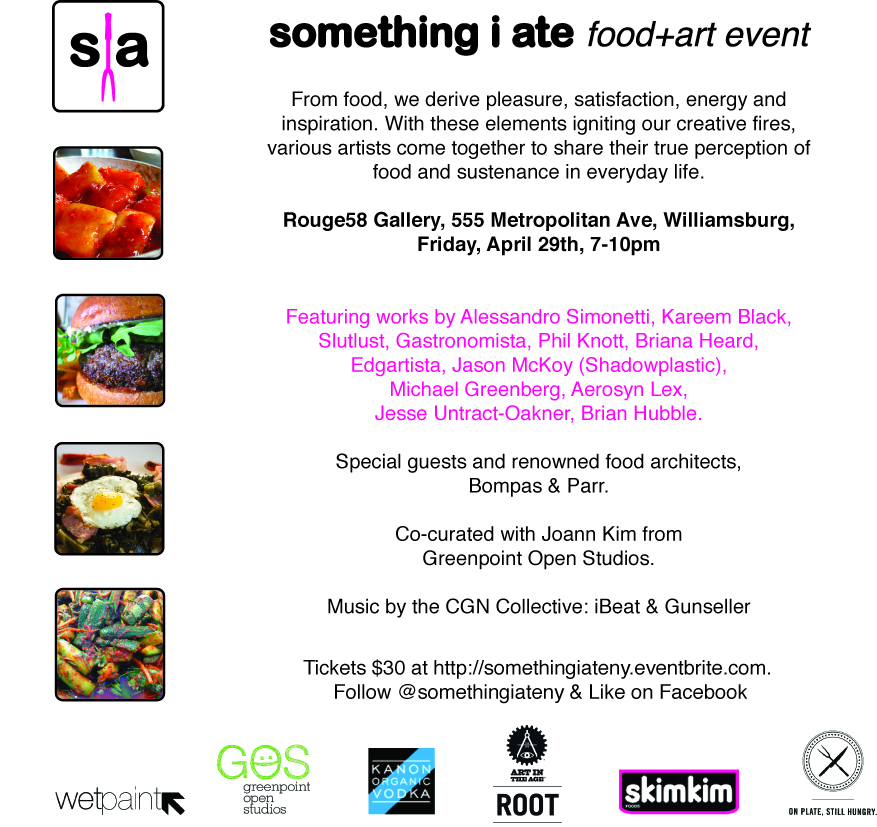 Here we go! Put this on your calendar! It's food, art, drinks, and music, all under one roof in BK. Friday, April 29th, 7-10pm at Rouge 58 in Williamsburg. We have some heavy hitting artists, too! Get your tickets now at http://somethingiateny.eventbrite.com. Follow on Twitter and Like on FB. Here's a little snippet of the press release:
SOMETHING I ATE is a collaborative food + art project between Sam Kim of Skimkim Foods and Kat Popiel of On Plate, Still Hungry. Creative minds converge for this event with food being the principle medium. Presented at Rouge58 Gallery in Williamsburg, artists will document seven days of their personal eating experience from zero to x "meals" a day, culminating in exclusive works using whichever media they prefer – photo, paint, jewelry, fashion, film, music, etc. The idea is that from food, we derive pleasure, satisfaction, energy and inspiration (or vice versa) and these elements, whether cognizant of them or not, ignite our creative fires. Something I Ate intends to share various artists' true perception of food and sustenance in everyday life.

Following final submissions of the exclusive works, each artist will pinpoint a defining meal, ingredient, or experience and Sam Kim of Skimkim Foods will present her seasonal, local interpretation including a pairing of cocktails by Kanon Vodka & Root Liquor. Both will be served to ticketed guests on opening night Friday April 29 (7-10pm).  The exhibit, co-curated by Joann Kim of Greenpoint Open Studios, will remain on show until May 1st.