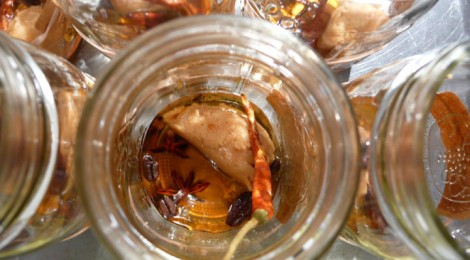 It was my friend, Matt i.e. Gunseller's, birthday the other week and we celebrated at his new huge apartemento in Park Slope. Rontronik and iBeat were spinning which was awesome and amazing, in particular, Ron's magnum of white wine that I kept refilling my glass with. If you know me, you know that I hate showing up to a party empty handed so after I got home from making Skimkim weekly deliveries, I got to work (train time=concepting). I have mason jars hanging around my crib like a pot head has stashes everywhere. It's autumn and hot cocktails have been on my mind…so, I whipped up a batch of Hot Buttered Rum batter and unscrewed a dozen mason jars.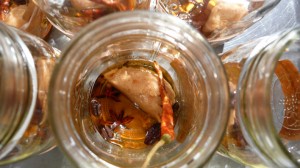 I love me some rum but I think that me and my brothers are more partial to whiskey. I had a bottle of Bulleit and poured about 3 oz in the bottom of the jars, on top of the batter. I added whole star anise, coffee beans, and an a dried arbol chile to each jar. Of course, having my own line of vittles, I have extra labels sitting right by the laser printer so I got to work being crass and witty.
With serif font installed, I printed these: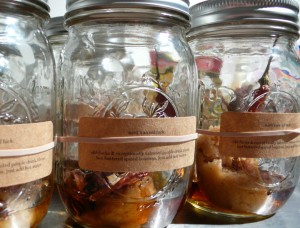 The labels say, "Matt is an old fuck. Old fucks and exceptionally talented people drink these. Hot buttered spiced bourbon. Just add hot water." We boiled water at the party and poured about 10 oz. of hot water in the jars. I'm pretty sure people have been dreaming of these jimmy jams ever since.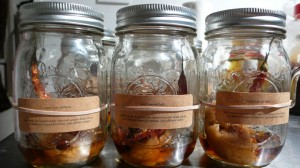 They were DE FUCKIN LISH ISH. I have one sitting in my fridge now…
I may try a version of stirrers where you just add them to hot water and stir. Like a hot chocolate marshmallow on a toothpick idea. Refrigerate the batter, roll in cinnamon/cloves/nutmeg/black pepper and WHAT THE FUCK. Hot totties are so 2010. I got the hot shit.